Food spoilage is a natural occurring process. When food is subjected to temperatures in the "danger zone" above 40 degree F and below 140 degree. F. the toxins multiply at an exponential rate. The toxins in turn leave bacteria on your food. Bacteria, yeasts and molds are among common causes of spoilage and food poisoning.  There are very limited and ineffective methods for keeping food in the safe heated range during delivery or curbsiude pick up. Likewise, options for buffet warming are limited and burning toxic substances if the most common method.
      Applying International Innovation's patened thermo-electric technology has led to the development of revolutionary food heating systems for transport and buffet warming.
NOTE: These systems are being built under exclusive contract for legacy food service providers.
Battery Power      AC Power     Keep food safe 140° +
Commercial Food heating options
FOOD TRANSPORT
Battery powered heater will keep food in the safety zone between 145 and 160°f for 3 hours. Internal fan circulates air through out container to maximize heating effect. Device snaps into bag and includes LED Power Level indicators and a single touch Power Button for simple operation. Proprietary temperature monitoring system cycles device on and off to prolong run time. Fast charger can independently charge 4 batteries at a time.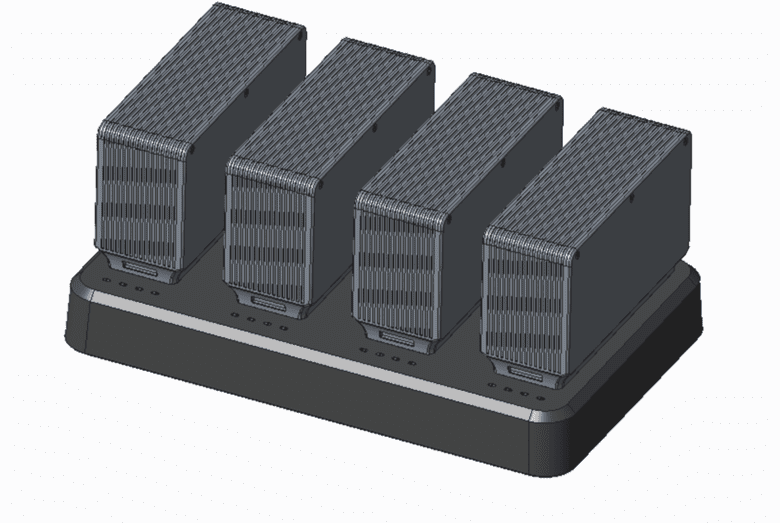 Buffet warmers can operate on AC or battery power and maintain a safe temperature, over 140°f, for up to 3 hours on battery charge or all day on AC Power. Simple power On button starts device and LED Power level indicators show remaining battery life. Proprietary temperature control system cycles the device to maximize efficiency and prolong battery life, Solid foods or soups, stainless steel, ceramic, or cast iron fishes.