TOTAL TEMPERATURE CONTROL
Patented Hot Bottle design was the first product able to fully boil water with a battery: 212°F/100°C. With several more patents pending full temperature range is accessible via Secret til Lit display or APP control. App also provides presets for Brew Coffee, Brew Black Tea, Brew Green Tea and programed favorite temperature. Select your preferred temeprature and the proprietary control system will maintain it all day. Vacuum insulated bottles are also great for keeping drinks cold.
Enjoy a hot drink - Anywhere!
      COFFEE
      TEA
      COCOA
      SOUP
      PREP FREEZE DRIED FOOD
NEU PURIFY and NEU Brew; a patent pending system providing unprecedented functionality. The system core is a collapsible, sealable and removable pump chamber. The Pump Camber can be removed for filling and sealed with a simple twist to prevent leakage and mess. When reattached to the bottle the filter side seal is opened allowing water to be forced through the filter box by compressing chamber.
PURIFY: Other portable systems filter water and leave pathogens attached to filter, inside bottle. They create a breeding ground for pathogens!! Only NEU totally eradicates pathogens and then sanitizes itself!! First step is to use the UV cap to purify water in collapsible chamber prior to opening filter valve. When valve is opened water is forced through a multi stage filter that includes a) non woven fiber particulate filter, b) biocidal filter that eradicates any microorganisms that may have survived UV and then c) activated carbon filter for removal of heavy metals, chlorine and odor along with improving taste and appearance. After use the UV cap is applied to top and bottom of collapsible chamber to sanitize and eradicate any microorganisms that remain from water.
BREW: The filter box is designed to open and allow chnage of filters. Removing the purifying system and adding the stainless steel coffee filter creates a new experience in on the go coffee brewing. It is the only system that allows you to control brew time, control brew blends, brew on the run-literally-with a sealed, no mess system. KCup style cannisters provide added convenience. The pressurized system allows faster brews with cold brewing in as little as 3 minutes.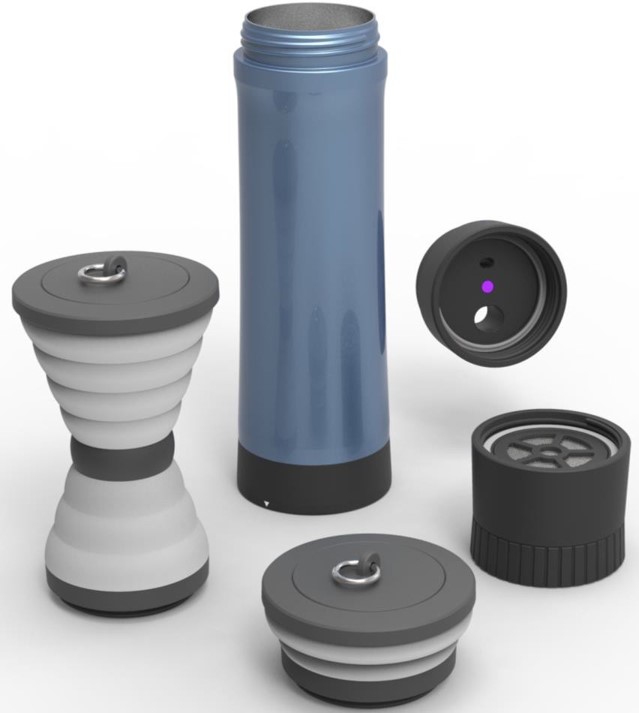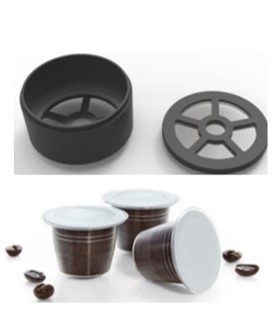 Multi blade blender has its own self contained battery and screws onto bottle top. Powerful enough to crush ice, the portable blender adds new dimensions to bottle capabilities.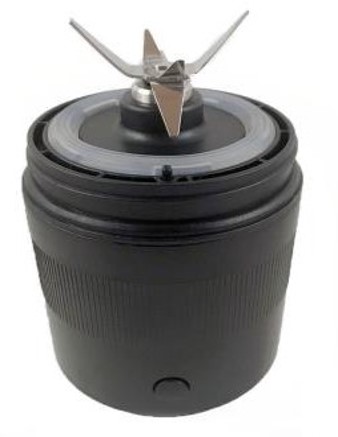 Water flavoring with electrolytes, healthy smoothies and shakes, plant based protein and, lets not forget, cocktails!!! Mix packages are available for  these and more.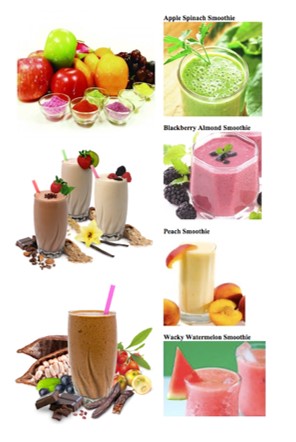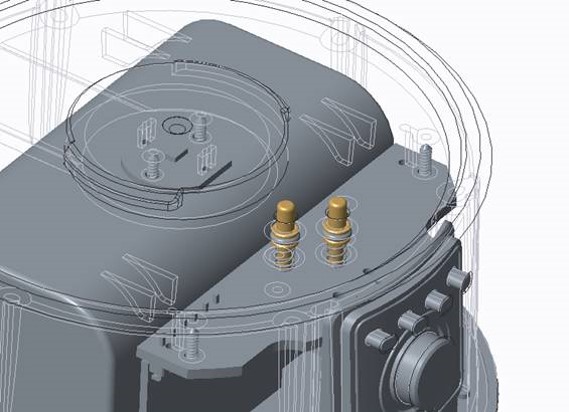 The unique battery powered heating system allows safe and convenient use anywhere. A vacuum insulated bottle  keep liquids hot or cold. The Control Module is the brains of the system and contains numerous safety circuits, the heating array, Bluetooth module, control PCBA and secret til Lit display.
Airplane safe lithium ion battery cells are designed with multiple safety circuits. The Patented power system provides energy to heating elements which transfer heat to the thermally conductive stainless-steel base. The result is total temperature control from 86° to 212° F.
Plastic parts are BPA Free, heat resistant, fire retardant, waterproof and impact resistant. The food safe cap screws on and seals tight with an O-ring. Power transmission is accomplished through plated spring pins and connector rings. The bottle itself is food safe 304 stainless steel.
SPECIFICATIONS
Sleek, Elegant Style
Temperature Range 80-212°F
Battery Life\up to 18 hours
Capacity 16 oz
Spill-proof Lid
App Control
Plug-In Base
Quick Cool Down
Brewing
Extra Hot Beverage
Water purification
Freeze Dried Food Prep
Vacuum Insulation
Modular Design
Car/boat adapter
Blender option
Additional Module capability
Maintain Specific Hot Temperature-start hotUnlimited active powered heating with AC/DC
Maintain Specific Hot Temperature-start hot
Up to 10 hours active powered heating-battery
Maintain Hot Liquid-start hot
5-6 hours-passive retention
Heat and then maintain
Unlimited active powered heating with AC/DC
Keep cool with ice
20 hours +
Brew Coffee or Black Tea
16 minutes
Brew Green Tea
15 minutes
Purify water
16 minutes
Prepare Freeze dried Food
16 minutes
Perfect Cup
11 minutes