TOTAL TEMPERATURE CONTROL
Hot Kup utilizes the same technology as the Patented Hot Bottle in a stylish new cup design. Able to fully boil water with a battery: 212°F/100°C. With new patents pending full temperature range is accessible via Secret til Lit display or APP control. App also provides presets for Brew Coffee, Brew Black Tea, Brew Green Tea and programed favorite temperature. Select your preferred temeprature and the proprietary control system will maintain it all day. Hot Kup is vacuum insulated to maintain heat (or cold) and prevent overheating to touch. The proprietary removable handle provides ergonomic grip selections and optional style choices.

Hot Kup is designed to go where you go with 4 power options. 
     1) AC Base: operating on 110-240v, the AC Base is a set on/lift off saucer with power pins that connect to matching rings on bottom of Kup. Proviiding full operational power, the Base will also recharge the onboard battery.
     2) Onboard Battery is designed to maintain temperature when cup is removed from external power source. Headed for a meeting-no problem, on board battery will maintain temperature for 3 hours. NOTE: On board battery is not designed for active heating-temperature maintenance only.
     3) External Battery is a beefy rechargeable lithium ion battery that provides full power when AC is not available. Boil water, heat or maintain-anywhere.
     4) DC Adapter is designed to fit a car cup holder and provide 12v DC options for car, boat, RV...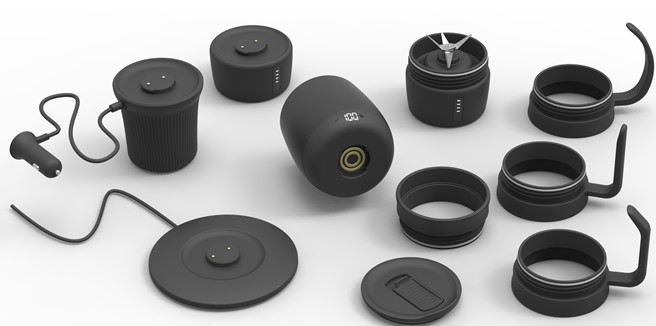 So much more than a heating cup, Hot Kup accessories include:
Blender that can crush ice, make healthy shakes, mix drinks or prep baby food. 
Patent Pending water purification system is not a filter. Most most competitive products simply filter pathogens, leaving them behind  to breed. This system eradicates pathogens and sanitizes itself!!
Coffee Press with a sealed, no mess, brew on the run (literally) press system for amazing, hot or cold, coffee and tea.
Shake Mixes and Drink Additives for a healthier, happier you.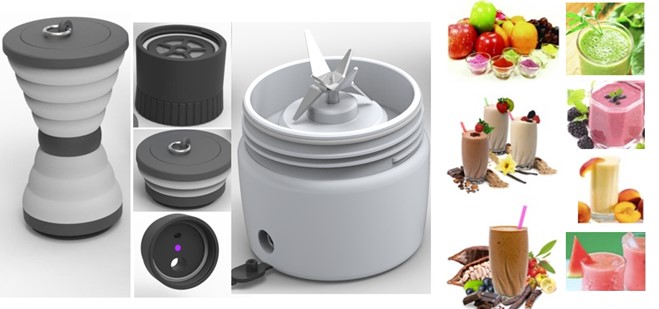 Elegant Style Removable handle
Temperature Range 80-212°F
Battery Life up to 18 hours
Capacity 12 oz
App Control
Brewing
Extra Hot Beverage
Water purification
Vacuum Insulation
Modular Design
Car/boat adapter
Blender option
Additional Module capability
Maintain Specific Hot Temperature-start hot, unlimited active powered heating with AC/DC
Up to 10 hours active powered heating-battery
Maintain Hot Liquid-start hot
5-6 hours-passive retention
Heat and then maintain
Unlimited active powered heating with AC/DC
Brew Coffee or Tea
Purify water
Perfect Cup setting